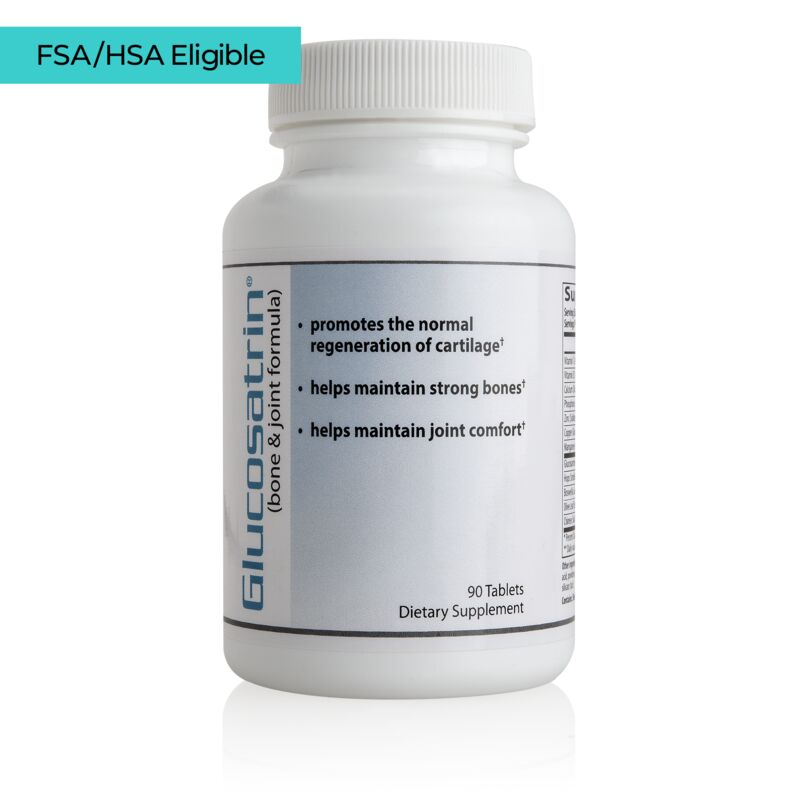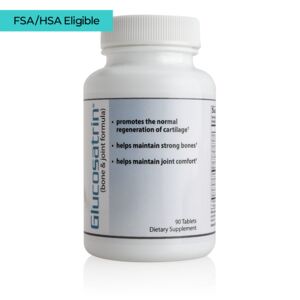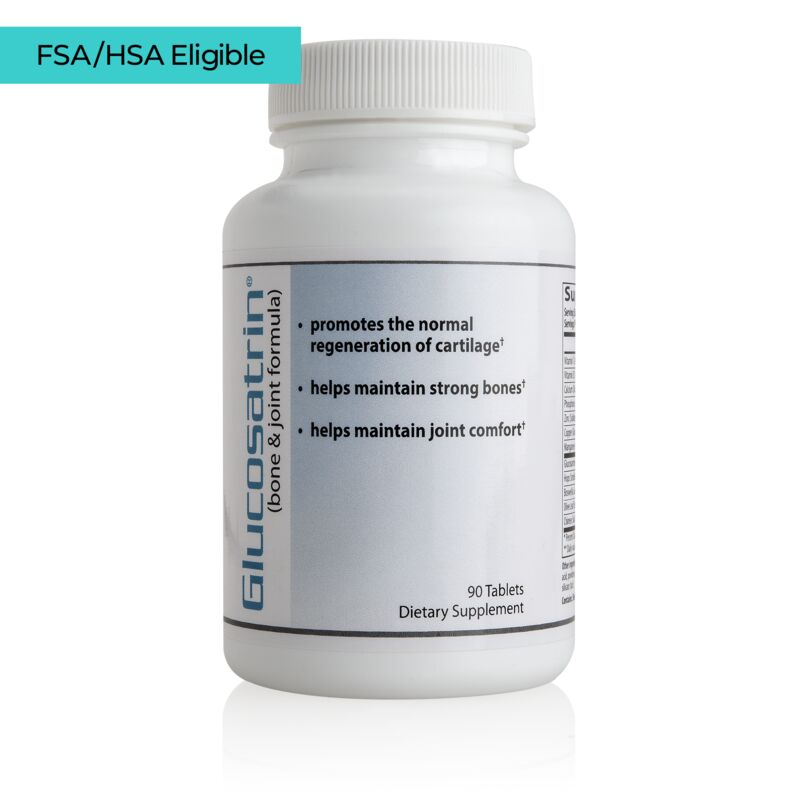 Market America
Glucosatrin® Fórmula para Huesos y Articulaciones
Vendido por Market America
Single Bottle (90 Servings)
Muy pocas personas se preocupan por el bienestar y la condición de sus huesos y articulaciones. A lo largo de la vida, la articulaciones sostienen un significativo estrés físico ocasionado por las actividades diarias como caminar, agacharse o levantar objetos. En condiciones normales el cuerpo es capaz de realizar estas actividades sin ningún problema gracias a los cartílagos. El cartílago es el tejido suave y elástico que recubre los extremos de los huesos y que les permite deslizarse y amortiguarse entre sí durante el movimiento. Los huesos y las articulaciones funcionan de forma conjunta para brindar estructura y flexibilidad.El organismo mantiene en buena condición las articulaciones mediante la constante reconstrucción y regeneración de los cartílagos. Esto permite que los huesos y las articulaciones mantengan la capacidad de absorción de impactos. Sin embargo, a medida que el organismo envejece o sufre lesiones, le resulta más difícil sostener la regeneración saludable de los cartílagos. Glucosatrin contiene varios ingredientes clave como vitaminas, minerales y hierbas que sustentan la salud de los huesos y articulaciones. Glucosatrin propicia la retención y la regeneración normal del cartílago y ayuda a mantener la flexibilidad de las articulaciones.*
Ver detalles
Compartir este producto
Beneficios
---
Ayuda a regular la respuesta del sistema inmunitario a los estímulos
Favorece la salud ósea
Ayuda a mantener huesos fuertes
Ayuda a mantener el movimiento normal y la flexibilidad de las articulaciones
Mejora la retención y la regeneración normal del cartílago
Ayuda a evitar molestias en las articulaciones
Favorece la salud y la flexibilidad de las articulaciones al envejecer
Sin gluten
¿Por qué elegir Glucosatrin?
---
Muy pocas personas se preocupan por el bienestar y la condición de sus huesos y articulaciones. A lo largo de la vida, la articulaciones sostienen un significativo estrés físico ocasionado por las actividades diarias como caminar, agacharse o levantar objetos. En condiciones normales el cuerpo es capaz de realizar estas actividades sin ningún problema gracias a los cartílagos. El cartílago es el tejido suave y elástico que recubre los extremos de los huesos y que les permite deslizarse y amortiguarse entre sí durante el movimiento. Los huesos y las articulaciones funcionan de forma conjunta para brindar estructura y flexibilidad.
El organismo mantiene en buena condición las articulaciones mediante la constante reconstrucción y regeneración de los cartílagos. Esto permite que los huesos y las articulaciones mantengan la capacidad de absorción de impactos. Sin embargo, a medida que el organismo envejece o sufre lesiones, le resulta más difícil sostener la regeneración saludable de los cartílagos. Glucosatrin contiene varios ingredientes clave como vitaminas, minerales y hierbas que sustentan la salud de los huesos y articulaciones. Glucosatrin propicia la retención y la regeneración normal del cartílago y ayuda a mantener la flexibilidad de las articulaciones.*
Ingredientes
---
Glucosamine Glucosamine is an aminopolysaccharide (a combination of the amino acid — glutamine and a sugar — glucose). Glucosamine is concentrated in joint cartilage where it is incorporated in longer chains known as glycosaminoglycans and finally into very large structures known as proteoglycans. Glucosamine is naturally produced by the body and is a key component of cartilage. Glucosamine supports healthy joint function and promotes the normal production of synovial fluid, which lubricates your joints and regenerates cartilage. There are numerous European studies showing a clear benefit of glucosamine supplements for promoting joint health. Vitamin D3 Regular sunlight exposure is the primary means of attaining vitamin D. Food sources of vitamin D include cod liver oil, fatty fish like salmon, egg yokes, liver and Vitamin D-fortified milk. Vitamin D supports the absorption of calcium and phosphorus and promotes the production of several proteins involved in calcium absorption and storage. Vitamin D works with calcium to promote hard, strong bones. It promotes the normal transport of calcium out of the osteoblasts into the extra-cellular fluid and in the kidneys and promotes calcium and phosphate re-uptake by renal tubules. Vitamin D also promotes the absorption of dietary calcium and phosphate uptake by the intestinal epithelium. Vitamin C Around 90 percent of vitamin C in the typical diet comes from fresh fruits and vegetables. Some of the best sources are peppers (sweet green and red peppers and hot red and green chili peppers), citrus fruits and juices, brussels sprouts, cauliflower, cabbage, kale, collards, mustard greens, broccoli, spinach and strawberries. Vitamin C is an antioxidant that promotes the normal growth and repair of tissue and supports adrenal gland function and gum health. It enhances immune function, supports the normal absorption of iron and supports cardiovascular health. It has been shown to operate as a signaling molecule to support the normal regulation of the synaptic efficiency of neurotransmitters dopamine and glutamic acid. Manganese The richest dietary sources of manganese include whole grains, nuts, leafy vegetables and teas. The efficiency of the absorption of manganese is low — around five percent. It may also help to alleviate some PMS symptoms and mood swings. Low levels of manganese in the body can contribute to weakness. Manganese deficiencies are considered rare since it is relatively easy to obtain adequate amounts of manganese through the diet. Interestingly, some experts estimate that as many as 37 percent of Americans do not get the recommended daily amounts of manganese in their diet. This may be due to the fact that whole grains are a major source of dietary manganese, and many Americans consume refined grains more often than whole grains. Refined grains provide only half the amount of manganese as whole grains. Additional benefits of manganese includesupporting calcium absorption, helping to maintain healthy blood pressure, promoting the normal formation of bones, supporting fat and carbohydrate metabolism and promoting the normal formation of sex hormones. Boswellia Resin The boswellia plant produces a resin that has been used in traditional Indian medicine as a support for joint health. The plant has a long history of safe and effective use for promoting joint comfort. It supports normal mobility. Boswellia resin contains active boswellic acids which have been shown to support healthy cartilage and joint health. Scutellaria Root Scutellaria is also called scullcap and is a member of the mint family. There are more than 100 related species of scutellaria throughout North America, Europe and China. In traditional Chinese medicine, scutellaria has been used for supporting healthy joints. Three bioactive flavonoids — baicalin, baicalein and wogonin — have been extracted from scutellaria and are thought to contribute to the major activities of the plant. All three flavonoids have been shown to support healthy joints. Oleanolic Acid Oleanolic acid is found in numerous herbs used in Chinese and Ayurvedic medicine. Oleanolic acid is isolated from the seeds of the plant randia dumetornm (rubiaceae). The compound promotes healthy joints. Hops Extract Hops (humulus lupulus) have long been associated with beer and ale, but the beverage originally called ale in English was made from fermented malt only and contained no hops. Although hops' confirmed value lies in its use for sleep aid, this herb has also been used to stimulate the appetite, support the flow of digestive juices and promote bone health.
Preguntas Más Frecuentes
---
Most bone and joint formulas contain chondroitin sulfate. Why doesn't Glucosatrin have this ingredient? Chondroitin acts in a similar way to glucosamine; however, many studies performed on chondroitin have had inconclusive results regarding its effectiveness. In one study, chondroitin was linked to poor prostate health. Glucosamine is the safe, effective ingredient with no known side effects.
Can I take Glucosatrin with other vitamin and mineral supplements? Yes, you can take Glucosatrin with other products, including Isotonix OPC-3®, Isotonix® Multivitamin, Isotonix Calcium Plus, and Isotonix Advanced B-Complex.
If I am healthy and active, do I need Glucosatrin? Yes. Glucosatrin should be taken for its ability to help maintain proper joint function.*
Ciencia
---
Anonymous. Boswellia seratta. Alternative Medicine Review 3:306-7, 1998.
Bowman BA and Russell RM. Present Knowledge in Nutrition, International Life Sciences Institute, 2001.
Hawk C. Manganese Deficiency and its Role in Structural Balance. The American Chiropractor, March/April, 1982.
Lemay M, Murray MA, et al. In vitro and ex vivo cyclooxygenase inhibition by a hops extract. Asia Pacific J Clin Nutr 13 (Suppl): S110, 2004.
Van Etten E, et al. 1,25-dihydroxycholecalciferol: endocrinology meets the immune system. Proc Nutrition Society 61:375-80, 2002.
Opiniones
---
Mostrando opiniones 1 - 5 de 8
---
Glucosatrin Bone & Joint Health Formula
I love Glucosatrin! My joint stiffness in the mornings is gone. Since I have been taking this product I can feel the difference after working out. My joints aren't as sore. Great product!
Respuesta de Atención al Cliente:
Dear Valued Customer,

Thank you for taking the time to share your thoughts on the Glucosatrin Bone & Joint Health! We are happy to hear you are pleased with the product.

Thank you again!
The Product Information Team
---
此产品对骨关节的灵活性非常有帮助
Respuesta de Atención al Cliente:
尊敬的客户,

感谢您抽出宝贵的时间分享您对葡萄糖素和骨骼健康的看法! 我们很高兴听到您对产品感到满意。

再次感谢你!
产品信息团队

Dear Valued Customer,

Thank you for taking the time to share your thoughts on the Glucosatrin Bone & Joint Health! We are happy to hear you are pleased with the product.

Thank you again!
The Product Information Team
---
非常的受益,每天必须品,帮助我的関節软骨再生,促进我的関節灵活性
Respuesta de Atención al Cliente:
尊敬的客户,

感谢您抽出宝贵的时间分享您对葡萄糖素和骨骼健康的看法! 我们很高兴听到您对产品感到满意。

再次感谢你!
产品信息团队

Dear Valued Customer,

Thank you for taking the time to share your thoughts on the Glucosatrin Bone & Joint Health! We are happy to hear you are pleased with the product.

Thank you again!
The Product Information Team
---
I combine this product with Isotonic Prime Joint Support. It has Cox2 inhibitor herbs in it so while the joint support works at supporting joints, if there is discomfort the herbs in this really help and support the joint. I'm in my 7th decade now and doing great and I think the protocols I've been taking for the last 15 years like these have made all the difference.

Respuesta de Atención al Cliente:
Dear Valued Customer,
Thank you for taking the time to leave your thoughts on the Glucosatrin. We are happy to hear you are pleased with this product.
Thank you again!
The Product Information Team
---