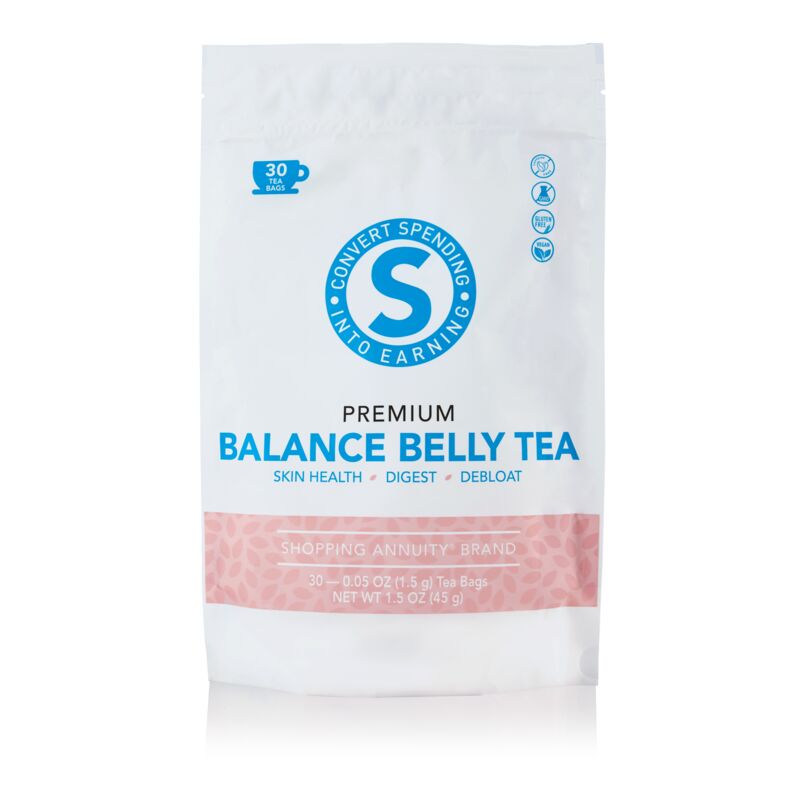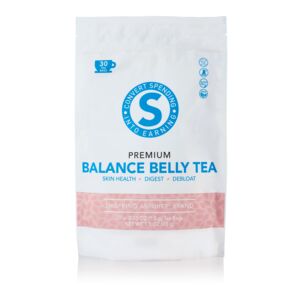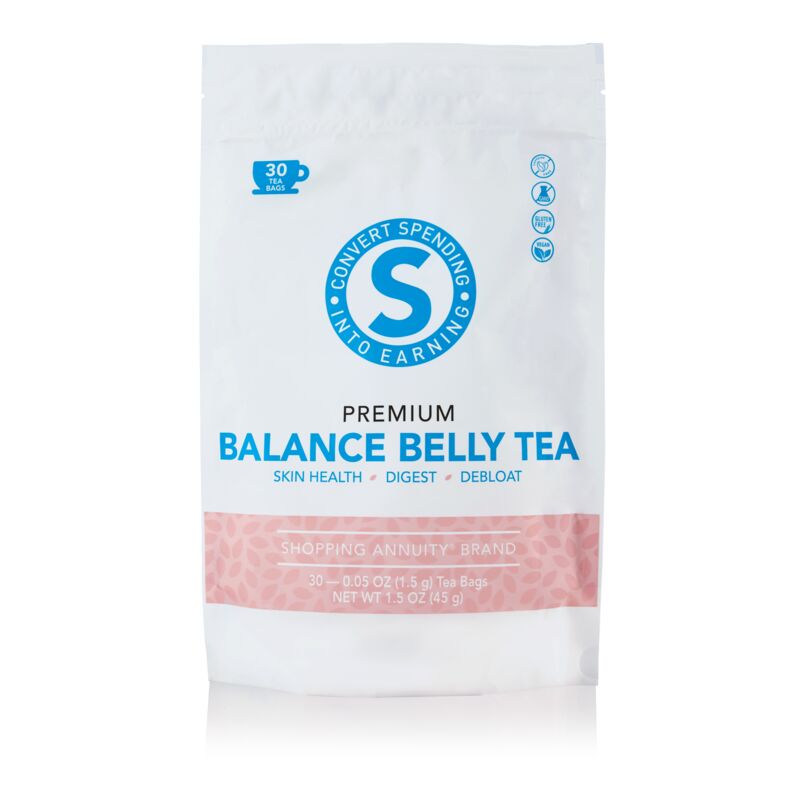 Market America
Shopping Annuity® Brand Premium Balance Belly Tea
Sold by Market America
30 Tea Bags Per Pouch (1.5 oz/45 g)
Replacing coffee and high calorie beverages is simple with Shopping Annuity Brand Premium Balance Belly Tea, containing a beneficial combination of hibiscus and botanical herbs which help support digestive health and overall well-being. Tart notes are balanced with sweet citrus ensuring this refreshing, light herbal tea can be deliciously rewarding. Have your tea and drink it, too.
See details
Share this Product
Primary Benefits
---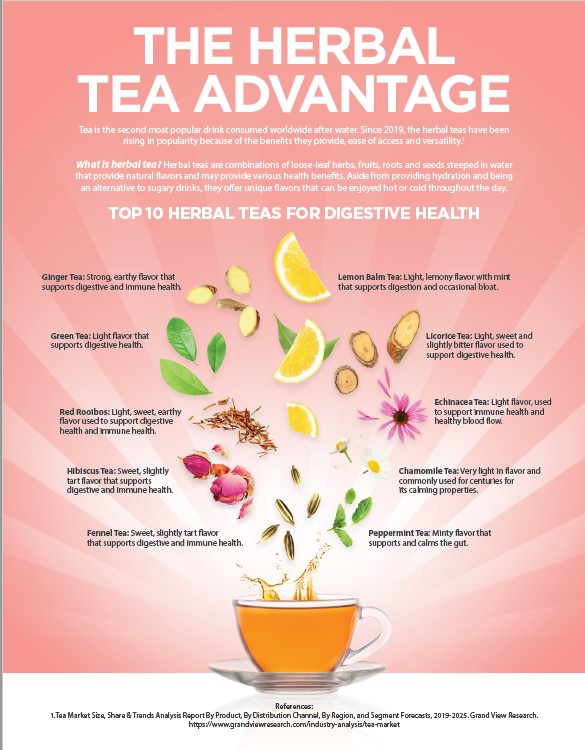 Delicious alterative tea
Uses high quality organic herbs
Caffeine free
Contributes to a healthy lifestyle
Supports digestive health
Botanicals with digestive and gentle skin properties
Soothing herbal blend
Biodegradable pyramid teabags
Contains NO yeast, corn, wheat, dairy, egg or MSG
No artificial color or artificial flavor
Product Classifications
---
Gluten-Free – The finished product contains no detective gluten (<10ppm gluten)
No Detectable GMOs – The finished product contains no detectable genetically-modified organisms
Vegan – The product is made without any ingredients produced by or derived from animals
Quality Standards - GMP Operations and Standardized Ingredients
Checked For: Heavy Metals, Microbiological Contaminants, Allergens, Residual Solvents, Potency, Purity and Identity
What Makes This Product Unique?
---
A wise person once said, "Sometimes all you need is a good cup of tea." Tea, the second most consumed beverage after water, used as a natural way to hydrate while looking to help support healthy lifestyle practices. With a designer mix of botanicals and herbs, alterative teas are made from botanicals that have digestive, and skin health properties. A key benefit to all functional teas is to replace sugary drinks or coffee. While traditional teas, made from Camellia sinensis plant, contain antioxidant supporting ingredients, they often contain more tannins and caffeine than herbal blends, as such providing a bitter or astringent flavor profile many people try to cover with sweeteners. Herbal teas, on the other hand, crafted from botanicals, taste light, soft and mellow providing similar benefits without the caffeine. Either way, picking a tea depends on the benefits and what it can deliver for individual needs.
Shopping Annuity® Brand Premium Balance Belly Tea offers a light, sweet flavor of hibiscus along with 11 other botanicals herald by herbalists for their benefits. Relied on for centuries, herbal teas have gained popularity around the world and are expected to continue to rise as more people focus on maintaining their health through better nutrition and lifestyle choices. Herbal teas are created by steeping herbs; submerging roots, seeds and botanicals in water to infuse their natural flavors. Ingredients are selected for their unique benefits they can provide. These teas offer numerous benefits while ensuring that they can easily fit into everyday routines.
Hibiscus tea is known for its sweet, light flavor as well as providing natural benefits with light pink color to the appearance free from artificial coloring, preservatives and caffeine. Hibiscus, a symbol of feminine beauty and youthfulness, has antioxidant properties that support healthy digestion, healthy skin and help support the immune system. Delivering a refreshing way to support digestive health, and radiant skin. Botanicals like fennel and cardamom naturally aid in debloating because their strong flavors stimulate the body to kick start the signal for digestion. While orange peel adds crisp, sweet notes that make it a great choice – hot or cold. To round out the alterative support blend found in Shopping Annuity Brand Premium Balance Belly there is raw dandelion root, nettle leaf and lemon balm.
Shopping Annuity Brand Premium Balance Belly Tea is a balanced herbal blend to support debloating with healthy skin and digestion benefits. Shopping Annuity Premium Balance Belly Tea can be sipped throughout the day, before meals or right before bed. Crafted with distinctive biodegradable bags that can go straight to your compost heap after using to put nutrients back into your flower bed or vegetable garden. Be wise about your health with Shopping Annuity Premium Balance Belly Tea.
Premium loose-leaf tea ingredients that support digestive health and healthy skin, conveniently compacted into one multiuse, biodegradable tea sachet.
Key Ingredients
---
Organic Hibiscus:
Hibiscus is a genus of flowering plants in the mallow family, popular for its vivid colors and trumpet-shaped flowers. Hibiscus sabdariffa, sometimes known as roselle, is one variety used to add a red color and flavor to herbal teas. While the deep red variety of hibiscus is the most widely known, there are other colors of hibiscus varieties, ranging from beige to rose to yellow. While the flavors are mostly similar, varieties of lighter colors tend to be more tart, while the varieties of darker varieties are fuller and more robust.
Organic Orange Peel:
Though often discarded before enjoying the fruit, orange peels contain polyphenols – showing to provide more than the fruit of an orange itself – which are well known for their antioxidant properties.
Organic Fennel Seed:
Native to the southern Mediterranean region, fennel is a perennial herb with yellow flowers and feathery leaves whose aromatic seeds are harvested for a variety of uses. Fennel seeds are a versatile spice with a distinct flavor profile that is often compared to licorice.
Organic Rosehips:
Of approximately 100 different Rosa species, some rose bushes produce ripe, dried receptacles (hips) that contain the plant's pseudo fruits and seeds. Rosehips are typically left on the bush and not harvested until after the first frost of the fall or winter season, allowing them to soften and their red color to brighten. Rosehips contain the carotenoid astaxanthin, which may contribute to skin health.
Organic Licorice Root:
The main active compound of licorice root is glycyrrhizin, which is responsible for its sweet taste and antioxidant properties, and is valued for its ability to help support the body's natural response to physical, chemical and emotional stressors. Licorice root may contribute to digestive health.
Organic Nettle Leaf:
Nettle is an herbaceous perennial flowering plant native to Europe, Asia, North America and North Africa that has been used for centuries. Although Urtica dioica is considered a weed, its seeds, leaves and even roots are used as in many countries, as it contains natura levels of polysaccharides.
Organic Lemon Balm:
Melissa officinalis, or lemon balm, is a perennial, lemon-scented herb native to mountainous areas of southern Europe and North Africa. Sometimes referred to as bee balm, lemon balm has been used for centuries to attract bees – thus its genus name Melissa, meaning "honeybee." Interestingly enough, lemon balm is not related to lemon, lemon eucalyptus, or lemongrass, but rather it is a plant in the mint family. Its edible leaves are often added to foods and teas for its refreshing, bright and citrusy taste.
Organic Dandelion Root:
Dandelion root is popularly known for its concentrations of inulin. Inulin is a type of soluble fiber that supports the maintenance of healthy gut bacteria in the digestive tract. Oligofructans, such as inulin, are used as food sources by beneficial intestinal bacteria. Inulin has also been shown to help support bowel regularity, as it supports the movement of food through the digestive system.
Organic Lemongrass:
Lemongrass is given its name for its lemony scent within the grass family. It is grown in tropical climates and is popular in Thai cuisine and teas for its bright lemon flavor with a hint of ginger. Though both lemongrass and lemon balm provide lemon aromas and tastes, lemongrass has a richer flavor. Lemongrass is frequently used in alterative and adaptogenic tea blends.
Organic Olive Leaf: A staple of the Mediterranean diet, applicable parts of the olive tree include its oils, the fruits and the leaves. Olive leaves contain an active ingredient known as oleuropein. Oleuropein is a phenolic compound which, like many phenolic compounds, have shown antioxidant activity.
Organic Marshmallow Root:
Marshmallow is a perennial herb that is native to Europe and parts of Asia that has been used for over 2,000 years. The mucilage rich roots are thought to be responsible for many of the beneficial effects of marshmallow. Researchers suggest that mucilage and flavonoids from marshmallow may form a protective layer over the gastric mucosa.
Organic Decorticated Cardamon Seeds:
Native to India, cardamom is an herb that grows up to 4 meters in height and produces green pods that contain seeds. Decorticated simply means that the seeds of cardamom have been removed from their pods. Cardamom is a close relative to ginger and turmeric, and its spice is a staple in Indian and Middle Eastern cuisines. Cardamom has a distinct aroma and flavor that is used in both sweet and savory dishes.
Organic Amla Berries:
Amla berries, also commonly known as Indian gooseberries, are native to India and the Middle East, but are now also grown in other countries with cool and humid climates. Amla berries contain concentrations of antioxidants which may help support the immune system.
FAQs
---
Is this tea caffeine free?
Shopping Annuity Brand Premium Balance Belly Tea is caffeine free, making this the perfect tea to drink any time of during the day, hot or cold. The unique blend of botanicals works together to ease belly bloat; have antioxidant properties, which may help encourage healthy skin and hair.
How many cups can I drink daily?
Shopping Annuity Premium Balance Belly Tea is an herbal tea free of preservatives and added flavors and provides antioxidant benefits and beneficial polyphenols. It is safe to drink 2-4 cups daily as the ingredients were chosen as they may support digestive health and healthy skin.
Can the tea bag be re-used?
Yes, the tea bag can be used twice. Once finished with the tea bag it is safe to toss into your garden or compost since the material is biodegradable. Making this both reusable and environmentally helpful.
Who is this product for?
Shopping Annuity Brand Premium Balance Belly Tea is for anyone looking for a natural way to promote digestive comfort and promote skin health. Created specifically to offer a way to care for your body by adding this to their daily routine.
Is this tea recommended for children?
Although Shopping Annuity Brand Premium Balance Belly Tea contains organic herbs and botanicals that may be safe for children to consume it is not suggested to give to children under 2 years old. Always consult your physician before making any changes in your health regimen.
Is this tea safe for women who are pregnant or nursing?
This tea is not recommended for women who are pregnant or nursing. Fennel, licorice root and lemon grass are not recommended for women who are pregnant or nursing. As with any change, please consult your physician before making any changes in your health regimen.
Who should avoid drinking this tea?
It is not recommended you consume this tea if you are allergic to any of the ingredients. Women who are pregnant or nursing, if you are currently taking thyroid medications, diuretics, blood thinners or barbituates talk to your physician first.
What are the benefits herbal teas have over traditional teas?
While both herbal and traditional teas are beneficial for hydration, herbal teas contain various ingredients to provide natural benefits. For example, botanicals like hibiscus, licorice root, lemon, and cardamom may support digestive health while also providing a light, crisp taste that can be enjoyed hot or cold any time of day.
Science
---
Park JH, Lee M, Park E. Antioxidant activity of orange flesh and peel extracted with various solvents. Prev Nutr Food Sci. 2014;19(4):291-298. doi:10.3746/pnf.2014.19.4.291
Hegazy AE, Ibrahium MI (2012) Antioxidant activities of orange peel extracts. World Appl Sci J 18:684–688
Badgujar SB, Patel VV, Bandivdekar AH. Foeniculum vulgare Mill: a review of its botany, phytochemistry, pharmacology, contemporary application, and toxicology. Biomed Res Int. 2014;2014:842674. doi: 10.1155/2014/842674. Epub 2014 Aug 3. PMID: 25162032; PMCID: PMC4137549.
Phetcharat L, Wongsuphasawat K, Winther K. The effectiveness of a standardized rose hip powder, containing seeds and shells of Rosa canina, on cell longevity, skin wrinkles, moisture, and elasticity. Clin Interv Aging. 2015 Nov 19;10:1849-56. doi: 10.2147/CIA.S90092. PMID: 26604725; PMCID: PMC4655903.
Pastorino G, Cornara L, Soares S, Rodrigues F, Oliveira MBPP. Liquorice (Glycyrrhiza glabra): A phytochemical and pharmacological review. Phytother Res. 2018;32(12):2323-2339. doi:10.1002/ptr.6178
Jan, K.N., zarafshan, K. & Singh, S. Stinging nettle (Urtica dioica): a reservoir of nutrition and bioactive components with great functional potential. Food Measure11, 423–433 (2017). https://doi.org/10.1007/s11694-016-9410-4
Vandeputte D, Falony G, Vieira-Silva S, et al. Prebiotic inulin-type fructans induce specific changes in the human gut microbiota. Gut. 2017;66(11):1968-1974. doi:10.1136/gutjnl-2016-313271
Trojanová I, Rada V, Kokoska L, Vlková E. The bifidogenic effect of Taraxacum officinale root. Fitoterapia. 2004 Dec;75(7-8):760-3. doi: 10.1016/j.fitote.2004.09.010. PMID: 15567259.
https://www.thespruceeats.com/how-to-cook-with-lemongrass-3217231
https://www.thewhistlingkettle.com/a/info/blog/lemongrass-vs-lemon-balm-whats-the-difference
Ekpenyong CE, Daniel NE, Antai AB. Effect of lemongrass tea consumption on estimated glomerular filtration rate and creatinine clearance rate. J Ren Nutr. 2015 Jan;25(1):57-66. doi: 10.1053/j.jrn.2014.08.005. Epub 2014 Oct 16. PMID: 25440110.
de Bock M, Thorstensen EB, Derraik JG, Henderson HV, Hofman PL, Cutfield WS. Human absorption and metabolism of oleuropein and hydroxytyrosol ingested as olive (Olea europaea L.) leaf extract. Mol Nutr Food Res. 2013 Nov;57(11):2079-85. doi: 10.1002/mnfr.201200795. Epub 2013 Jun 14. PMID: 23766098.
Hage-Sleiman R, Mroueh M, Daher CF. Pharmacological evaluation of aqueous extract of Althaea officinalis flower grown in Lebanon. Pharm Biol. 2011 Mar;49(3):327-33. doi: 10.3109/13880209.2010.516754. Epub 2011 Feb 1. PMID: 21281251.
https://www.thespicehouse.com/products/cardamom-seeds
Goel P, Agarwal D. A Strong Antioxidant: Ascorbic Acid or Vitamin C is an active ingredient of Indian Gooseberry (Emblica officinalis). International Medico-Legal Reporter Journal, Vol 3 Issue 1. 2020 Jan-Apr. https://legaldesire.com/wp-content/uploads/2020/04/17p.pdf
Reviews
---
Displaying reviews 1 - 5 of 7
---
Delicious and seems to work instantly on belly
Response from Customer Service:
Dear Valued Customer,

Thank you for taking the time to share your thoughts on the Shopping Annuity® Brand Premium Balance Belly Tea! We are so happy to hear you are pleased with the product!

Thank you again!
The Product Information Team
---
I Love my Belly as much as I love my tea
This tea is amazing from start to finish, what isn't there to like about it? I even go one step further by cutting open my bag and putting it into a tea maker and let it brew for 5 minutes or so. When I really can't decide on what to drink, I just add other teas like my Wellbeing, ImmuniTea etc and let my body have an internal party of fun and games. Thank you so much for these amazing teas. What other one's have you got up your sleeve ??? Cos I just can't wait.
Response from Customer Service:
Dear Valued Customer,

Thank you for taking the time to share your thoughts on the Shopping Annuity® Brand Premium Balance Belly Tea! We are so happy to hear you are pleased with the product!

Thank you again!
The Product Information Team
---
Haven't found out it will help to reduce belly yet! But the taste is good, will continue to drink it!
Response from Customer Service:
Dear Valued Customer,

Thank you for taking the time to share your thoughts on the Shopping Annuity® Brand Premium Balance Belly Tea! We are so happy to hear you are pleased with the product!

Thank you again!
The Product Information Team
---
This tea is providing me with comfort! My bloating is under.control!! It has been working since the first day! It has been difficult to find something that really works. I am at the end of the the first month usage...ready to order my second!
Because it worked on me,.I bought one for my daughter as well!
Response from Customer Service:
Dear Valued Customer,

Thank you for taking the time to share your thoughts on the Shopping Annuity® Brand Premium Balance Belly Tea! We are happy to hear you are pleased with the product!

Thank you again!
The Product Information Team
---
I drink a cup of this before I go to bed and sleep like a baby because my digestive system is very happy! It tastes good, is comforting and herbal so doesn't keep me awake. Has become part of my routine.
Response from Customer Service:
Dear Valued Customer,

Thank you for taking the time to share your thoughts on the Shopping Annuity® Brand Premium Balance Belly Tea! We are happy to hear you are pleased with the product!

Thank you again!
The Product Information Team