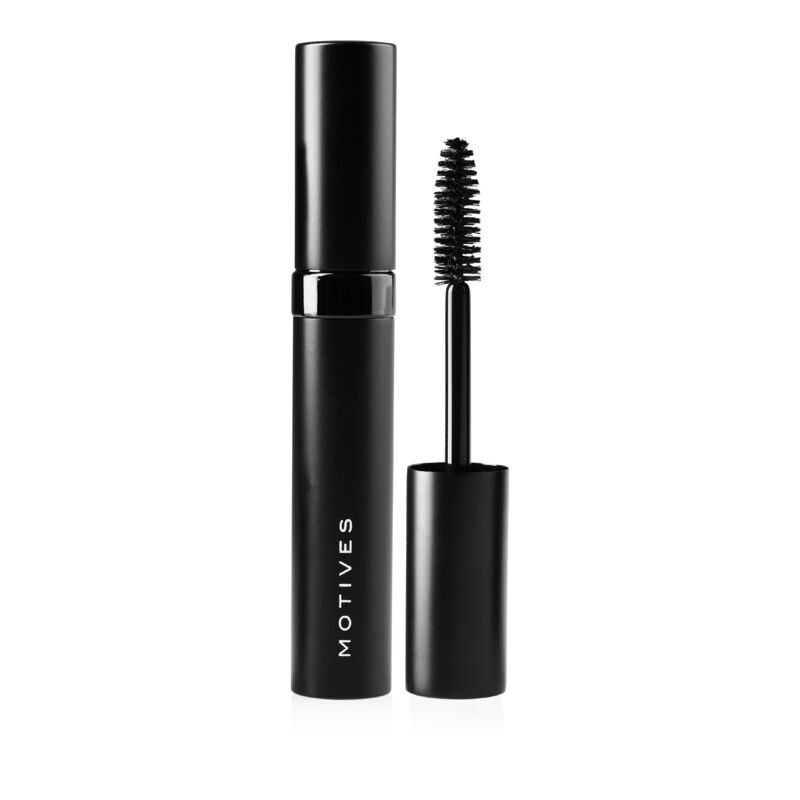 Market America
Motives® Lustrafy Mascara
Sold by Market America
A rich, hypoallergenic formula that volumizes your lashes, and resists smudging and flaking. The oversized brush builds thick, beautiful, bodacious lashes with every swipe.
See details
Share this Product
Details
---
A rich, hypoallergenic formula that volumizes your lashes, and resists smudging and flaking. The oversized brush builds thick, beautiful, bodacious lashes with every swipe.
Benefits
---
Exquisitely rich formula and oversized brush builds thick, beautiful bodacious lashes with every swipe
Curls lashes without use of an eyelash curler
Non-comedogenic and hypoallergenic
Fortified with panthenol to lengthen and condition lashes
Creates smudge and flake-free, ultra glam catwalk lashes
Ingredients
---
Water (Aqua), Paraffin, Stearic Acid, Beeswax, Copernicia Cerifera (Carnauba) Wax, Hydroxyethylcellulose, Potassium Hydroxide, Phenoxyethanol, Butylparaben, Ethylparaben, Methylparaben, Propylparaben, Panthenol, Propylene Glycol (in Midnight Blue), Iron Oxides (CI 77491, CI 77492, CI 77499). May Contain: Ultramarines (CI 77007), Titanium Dioxide (CI 77891).
FAQ
---
Will Motives Lustrafy Mascara make my eyelashes grow?
Though your lashes will look longer and fuller, this mascara is not meant for eyelash growth or thickening. Fixx Lash Extend will help your lashes grow.
Is Motives Lustrafy Mascara waterproof?
No. If you would rather use waterproof mascara, try Motives Lustrafy Waterproof Mascara.
Which color of Motives Lustrafy Mascara should I use?
It depends on your desired look. The Dark Chocolate will make your lashes look softer and more natural, while Blackout will give your lashes a dramatic boost.
What will my lashes look like after I use Motives Lustrafy Mascara?
Your lashes will look fuller, darker, and longer after using Motives Lustrafy Mascara. The large brush will also give your lashes a dramatic curl without using an eyelash curler.
Will Motives Lustrafy Mascara come off easily?
While you're wearing it, Motives Lustrafy Mascara will not smudge or flake off leaving unsightly marks on your face. However, it is easily removed with an eye makeup remover and warm water.
Reviews
---
Displaying reviews 1 - 5 of 10
---
what I like about this mascara is that it does not "feel" hard on your lashes.
Response from Customer Service:
Dear Valued Customer,

Thank you for taking the time to leave your thoughts on the Motives Lustrafy Mascara. We are happy to hear you are pleased with the product.

Thank you again!
The Product Information Team
---
Excellent product! Clean, long lasting color and heft...
---
Love this mascara. It is not dried out and easy to apply. Love the wand. There is hardly any smell with this mascara as the strong smells associated with other brands. Will never buy another brand again!
---
Best Mascara I've Ever Tried
I've been using it now for about six months and will never switch to anything else (until the Fiber mascara by Motives becomes available again, so bummed it sold out so fast!). It goes on smooth. It stays on all day. I've even gone swimming and it stayed on almost perfectly. When I want to clean it off at night it comes off cleanly with any normal makeup remover. LOVE Lustafry. Highly recommend!
---
my favorite, must-have makeup essential
I use this mascara every day! I have really wimpy, blonde eyelashes but this mascara makes my lashes look long and thick. It goes on so smooth - never clumpy or goopy. It lasts all day long without flaking or crumbling, yet it comes off with no fuss when I wash my face before bedtime. I love that it adds a little curl to the lashes without a curler. You can also change your lash dimensions with how many coats you apply, so you can use just one product to get just a little lift and definition, or big and bold lashes for a night out.